20 Best Small Kitchen Paint Colours
The kitchen may be the most frequently visited room and the centre of your house. Not only can a stunning kitchen enhance the aesthetic appeal of your home, but it can also make you happier every day.
It's crucial to choose the right colour shade for your kitchen. Alacritys Pune architects would be happy to assist you to discover the right colours you want. Here are the best chosen options by us, top 20 colours for painting a small kitchen :
Top Kitchen Colour Ideas for Small Kitchens
1. Startling Pink
Starling Pink might be overwhelming for large kitchens, but for small kitchens, it is just right. Pink is one of the most popular paint colours for small kitchens.
2. Bright Yellow
The Bright Yellow overhead disguises a low ceiling. It is one way to make a small kitchen appear larger.
3. Light Grey
By selecting something understated, you can ensure Light Grey provides interest without overpowering the space. It can be an ideal choice for colour ideas for small kitchens.
4. Dream Cream
Utilizing all-over colours on cabinetry and walls will make small kitchen paint colours feel seamless. For instance, a warm, cosy, and ultimately timeless Dream Cream colour would be light and buttery in tone. Consider pairing it with light or rustic wood cabinets when coming up with rustic kitchen ideas. You can also add Pink or Earth tones on the cabinets for a more feminine effect. Any small kitchen colour combination can use this colour.
Also check: Kitchen Countertop Ideas
5. Blue
Blue is the most appropriate colour to paint a small kitchen for a tiny kitchen as it symbolizes both the sky and the sea. It is associated with wide-open horizons, creativity, and inspiration.
6. All Black
Although black in a small kitchen could seem cramped, it can have the opposite effect when used properly. The small kitchen appears uncluttered with a solid Black wall.
7. Moody Grey
Your kitchen can look classic using a deep, brooding colour like Moody Grey. Ensure your kitchen has sufficient natural light to use this colour in a small space successfully.
8. Pastel Yellow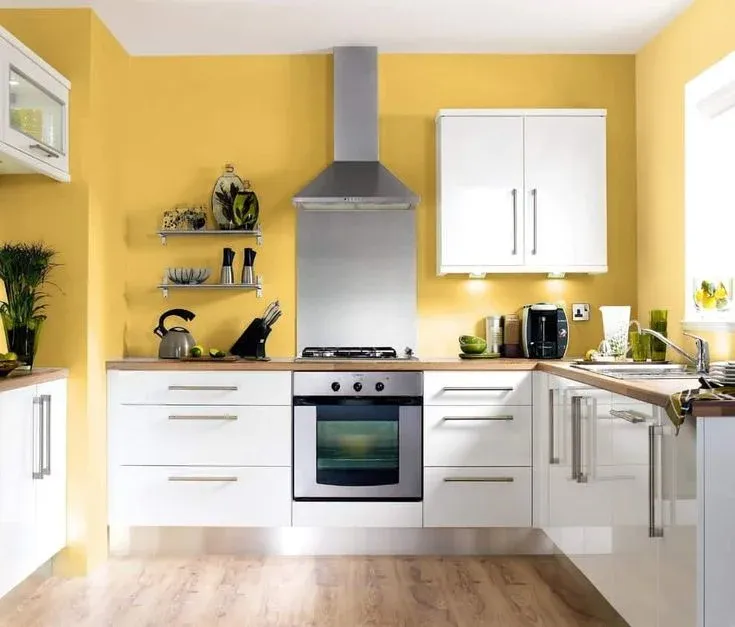 Choosing a Pastel Yellow colour for your small kitchen is not the first thing that springs to mind. But in small doses, it can be an essential touch to add on walls.
9. Lime Green
Choose a vibrant colour like Lime Green for your small kitchen. However, try this if you enjoy clever designs in the home kitchen. Remember that painting Lime Green would bring that charm & cheerfulness to your kitchen.
10. Orange
An Orange or Terracotta colour scheme will create warmth in your kitchen. Making your kitchen feel cosy and using these earthy tones can help it have an organic vibe.
Also check: Kitchen as per Vastu for an East Facing House
11. Red
Red is one of the more striking colours amongst all kitchen paint colours, as it is less frequently utilized as a kitchen colour idea for small kitchens. However, this colour is for you if you want your kitchen to be the centre of attention. You can do that in small amounts, but be careful.
12. Blue-Grey
For a small kitchen, Blue-Grey is a subdued and elegant option. It is not as wacky as pastels or as daring as bright colours or black. However, it works perfectly when the contrast colours are being used in the right proportion..
13. Emerald Green
For small kitchen paint colours, Emerald Green may make your kitchen feel as unique as the gems. It is especially true if you have a small kitchen with high ceilings.
14. Bold Teal
Here we suggest using this for the ceiling. This will draw the eye and give the impression of more space in a small kitchen. White cabinets, a wood floor, and other traditional elements make up most of the kitchen, but the ceiling makes the room stand out.
15. Turquoise
Your kitchen will look brand-new and exciting when painted Turquoise. This magical Turquoise colour for small kitchen colour ideas helps create a clean and welcoming atmosphere in a modern kitchen with white cabinetry.
Also check: DIY Kitchen Ideas on a Budget
16. Lavender
A fresh take on traditional Grey is to paint your kitchen, Lavender. Without being overpowering, it gives an excitement to your kitchen. Both standard and modern kitchens benefit from this warm & subdued colour.
17. Purple
A sleek, minimalist kitchen with lots of natural light will look gorgeous with the warm, lovable and inviting Purple tones. It is the best colour for a kitchen without being overpowering or intimidating.
18. Brown
Brown colour schemes are organic and earthy, creating a calm and relaxed atmosphere. A traditional kitchen will look especially elegant in this rustic tone.
19. Neutrals
White, cream, and Beige are likely to come to mind when considering paint colours for small kitchens. But many more colours are available, and some are ideal for adding coolness to a tiny kitchen.
20. Peach
Because of how fresh and cheery it feels, this colour is associated with spring. It's a fantastic way to add year-round brightness to your home. Peach instantly transforms a space into a soft, romantic, and feminine one if you choose it from different available options for kitchen paint colours. It adds joy and love to your kitchen.
Important to understand:
Consider the kitchen wall colours mentioned above and choose one that suits you. The perfect finishes to use from any paint company are, satin or semi-gloss for kitchen walls. They are simple to clean and resist stains and dirt that accumulate on walls over a period of time. While selecting the finish for the kitchen walls, you can discuss it with us, residential interior designers in Pune.
Also View: 5 Best Kitchen Countertops Material in India
 How to choose wall colours for small kitchens?
– There are a few popular basic strategies when choosing paint colours for your kitchen. Perhaps the most popular is deciding on the most popular interior paint brands available in the market. This makes your job easier based on available kitchen sizes & cabinet finishes & colours.
– The big advantage of using trending kitchen colour paint companies' consultancy is that they free you from thinking about the complex part of picking a single-colour or two-colour combination paint based on the available kitchen size.
– "The theme for the future will be innovation-focused", says Amit Syngle, CEO of Asian Paints. So, create a stylish & pleasing kitchen wall colour combination. Discover different wall colour ideas & enhance your home.
– No matter what you do to change the kitchen wall colours around you, remember that it will impact your mood and overall health. "Wall colours can even make your immune system work more effectively."
– A new breed of small kitchen paint colours lets you choose between cool and warm colours. This is when you check the wall paint colour catalogue of more than 2200 available shades given by paint companies such as Asian Paints for home interiors.
– This can bring colour to your fingertips. And set the colour to any kitchen shape & cabinet finish. Products in this rapidly growing space include Asian paints, Nerolac, Berger, Dulux, & Indigo. Each is designed to replace and enhance your dead kitchen walls into aesthetically pleasing kitchen walls for many years to come.
– Therefore, to beautify & bring perfection to your kitchen, a multitude of ideas have been suggested by Alacritys. From these ideas, you can find out which one to choose and why to choose that particular colour for your desired kitchen.
– As stated earlier, a kitchen's design and structure will have craft-friendly vibes and will probably be the best choice for your home.
– A kitchen's arrangement and plan are amplified by the colour you choose, creating a different mood of joy.
Choosing small kitchen wall colours with kitchen cabinet colours & finishes
– You need ample lighting & large windows when your kitchen is small. Plenty of natural light will help you to choose lighter cabinets & bright colours. This makes a small kitchen look more spacious.
– If a cabinet colour is already in your mind, see how it stacks up against a variety of styles and textures of backsplashes and countertops. Small kitchen modular companies like Pepperfry, Urban Ladder, Sleek, Godrej Interio, & Jindal Kitchens; are giving different small kitchen design ideas. So that you can easily choose the best one which you want. If you have a customization plan then you can choose just laminate & get it pasted on the kitchen cabinets.
– There are various laminate finishes from different branded catalogues, such as Royale Touche, Greenlam, Stylam, & Airolam When you, the company catalogue you see or if you can visit the display centres of them, & when you look at the catalogue for inspiration, you will be pleasantly surprised to see how laminate options you choose for your cabinet harmonizes with painting colours for kitchen walls you have already chosen.
– Small kitchen modular cabinets are pre-fabricated furniture units with varied customisation options. They're usually built using marine wood & MDF boards which are made up of smaller particles of wood and sawdust packed together. They're also made using calibrated plywood. Calibrated wood has a smooth and uniform thickness.
– Small kitchen modular cabinets sometimes feature solid wood finishes as well. Marine wood or MDF wood should be chosen as such modular kitchen brands give assurance of durability & they are waterproof.
– The raw materials used to make modular kitchens are waterproof HDF/MDF/Plywood which are painted with Duco or regular furniture paint. For a second type of modular kitchen look, anti-scratch acrylic laminates with edge binding are one type of finish.
-These two types of modular small kitchen designs are trending in kitchen cabinet design. There are some others as well like wooden modular kitchens, matte finish laminate-based modular kitchens, & high-gloss laminate finish kitchens.
– If you are planning to repaint the walls of your small kitchen design, your colour selection should depend on how much of the wall peeks out from around the cabinets and appliances. Whatever mood you wish your kitchen to induce, your kitchen cabinets will be the driving force because they take up so much optical space.
– Choose a colour/s that speaks to your individuality and cooking aspirations and meal times.
Conclusion
The kitchen, even if it is a small kitchen design, maybe one of the most important rooms in your home, so it's natural to feel conscious when making kitchen wall & cabinet colour choices. By understanding factors like the kitchen's size, lighting source, and the overall visual you wish to create, you will be able to narrow down colour choices that suit your preferences & will craft an outstanding Kitchen colour combination for you.
So now that you are knowing a few things about small kitchen paint colours, kitchen cabinet finishes & colours selection, the real questions are,
1. Which colour combination do you prefer for your small kitchen design?
2. Which small kitchen modular cabinet colour would you like to select?
3. Which paint company would you prefer for your small kitchen & why?